Welcome to the JBLE-Fort Eustis iSportsman Portal! If you are new to the installation or a seasoned outdoor enthusiast, please take a look around as this portal has changed significantly since last season. All information pertaining to the Hunting, Fishing, and Boating Programs can be found on this portal in the blue banner above! Please visit our "Upcoming Events" tab (below) for the most recent changes and events at JBLE-Fort Eustis.
ATTENTION NEW HUNTERS: Please be sure to contact the wildlife biologist(757-952-5204) if you have any questions or concerns about hunting on Fort Eustis, that you can not find the answer to on iSportsman. If you can not get a hold of the wildlife biologist you can try contacting one of our Conservation Law Enforcement Officers(Officer Thomas 571-369-4840 or Officer Baird 279-842-2844), Ben Buzard(deer hunting sportsman council member 757-927-2971), or Bill Whitley (general public sportsman council member 757-876-3794). We are all available to help make sure you are in compliance with JBLE 32-102 Hunting, Fishing, and Boating Regulations and Penalties as well as answer any questions you might have.
ANNOUNCEMENTS:
Alert! IAW JBLE I 32-102, If you see soldiers in a hunting area...
1) Make your weapon safe
2) Make yourself known
3) Safely exit the hunting area and checkin to a different hunting area.
MANAGEMENT HUNT RANDOM DRAWINGS: It has been brought to my attention by a few hunters that they have concerns about the randomness of the lotteries. I reached out to our iSportsman administrator to look into the system to make sure it is working properly and how the system work. His reply is below....
The lottery drawings are completely random. The methodology, algorithm, used by the application is:
assign each lottery entrant a decimal value; this value is generated by a .NET native randomizer function, generating random decimal values from 0.0 to 1.0
store the assigned values in a separate array
select the highest value as the lottery winner
if multiple winners are allowed in the particular lottery, each remaining entrant is assigned a new randomly generated value, and the entire process is repeated until the allotted number of winners for that lottery are selected
Importantly, iSportsman's underlying algorithm uses industry standard Microsoft .NET libraries to generate the random values ensuring randomness and disallowing influence either from the application or the administrators.
Please let me know if you have any questions about the system, I am happy to sit with anyone and show them the process we use to draw the hunt.
MUST READ: Please note ALL hunters MUST submit a jawbone ANYTIME they harvest a deer. All hunters that harvest a deer, please make sure you clean your jawbone to the best of your ability. Please do not leave large amounts of flesh/meat on your jawbone.
JBLE 32-102 Regulations and Penalties: The new Hunting, Fishing, and Boating Regulations and Penalties have now been uploaded. They can be found by going to the Home Page->Regulations->JBLE 32-102 Hunting, Fishing, and Boating Regulations and Penalties. Please get familiar with this document, if you have any questions please contact the 733 CES Staff or one of our Conservation Law Enforcement Officers.
Management Hunts: All management lottery hunters will be required to submit biological samples of their harvest to the CLEOs present during the FY2023-2024 hunting season. All recreational hunters may submit samples voluntarily to the CLEOs if they would like. Please note ALL hunters MUST still submit a jawbone ANYTIME they harvest a deer.
Upcoming Management Hunts. 3rd, 9th, 10th Dec and 6th Jan will be Impact Management hunts. 13th and 20th Dec will be a Golf Course management hunt. 16th and 30th Dec will be Cantonement/Urban management hunts. These are the last scheduled management hunts for this hunting season. Please check reguraly for the lotteries to be available. Please note these are subject to change.
New For 2024: For the use of the archery range for recreational use, you must first purchase an Archery Range Permit, the cost will be $5. This will be made available for purchase on 1 Jan 2024. Please note you DO NOT have to purchase this permit if you only plan on using the archery range during archery qualifications for the management lottery hunts. Money received through this new permit will be used to purchase new targets and upkeep of the range. Thank you.
***YOU MUST BE CHECKED INTO iSPORTSMAN TO ACCESS ANY OPEN AREAS. IF YOU ARE CAUGHT ACCESSING ANY TRAINING AREAS WITHOUT BEING CHECKED IN YOU WILL BE REMOVED FROM THE PROGRAM***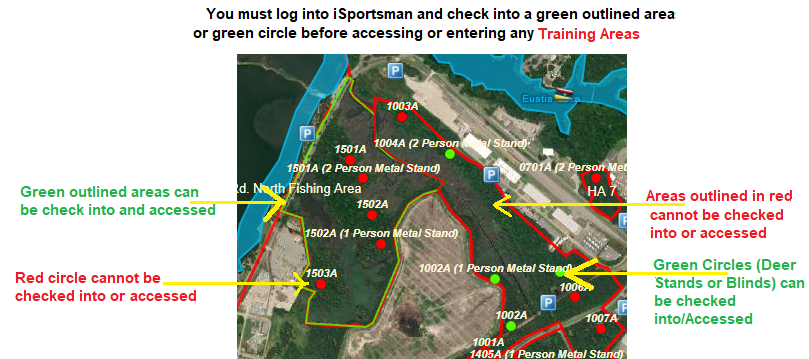 Click here for Upcoming Events

JBLE UXO Map
The link above has directions for reporting UXO that have been found.

JBLE Wildlife Violation Reporting
Click on the link above to report any incident or Wildlife Violation.