***IN THE EVENT OF A GOVERNMENT SHUTDOWN, ALL HUNTING, FISHING AND BOATING WILL BE CLOSED ON FORT EUSTIS***
Welcome to the JBLE-Fort Eustis iSportsman Portal! If you are new to the installation or a seasoned outdoor enthusiast, please take a look around as this portal has changed significantly since last season. All information pertaining to the Hunting, Fishing, and Boating Programs can be found on this portal in the blue banner above! Please visit our "Upcoming Events" tab (below) for the most recent changes and events at JBLE-Fort Eustis.
JBLE 32-102 Regulations and Penalties: The new Hunting, Fishing, and Boating Regulations and Penalties have now been uploaded. They can be found by going to the Home Page->Regulations->JBLE 32-102 Hunting, Fishing, and Boating Regulations and Penalties. Please get familiar with this document, if you have any questions please contact the Wildlife Biologist or one of our Conservation Law Enforcement Officers.
Permits: 2023-2024 Permits are now available for purchase. Please note we have had to make a few price changes to our permits this year. With increasing cost everywhere, we have had to raise our prices to be able to maintain equipment, stands/blinds, plant wildlife habitat, etc. Thank you for your understanding in this matter and we look forward to seeing you out there.
Management Hunts: All management lottery hunters will be required to submit biological samples of their harvest during the FY2023-2024 hunting season. All recreational hunters may submit samples voluntarily if they would like.
New For 2024: For the use of the archery range for recreational use, you must first purchase a Archery Range Permit, the cost will be $5. This will be made available for purchase on 1 Jan 2024. Please note you DO NOT have to purchase this permit if you only plan on using the archery range during archery qualifications for the management lottery hunts. Money received through this new permit will be used to purchase new targets for the range. Thank you.
Clean Your Catch! Those participating in fishing on JBLE-Eustis now have access to a fish cleaning station. A fish cleaning station has been provided at the Warwick Pier so that you may clean your catch. Please be responsible for making sure your scales and carcasses make it into the water and do not leave trash or other materials on the pier. There is no running water at the facility, so please plan accordingly and clean up after yourself. Contact the iSportsman Administrator if you need further information.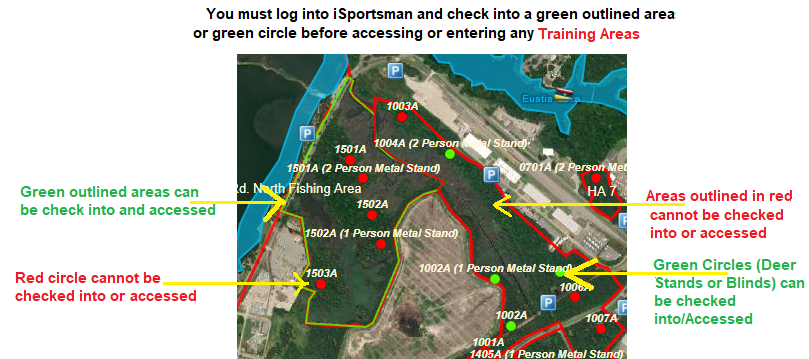 Click here for Upcoming Events

JBLE UXO Map
The link above has directions for reporting UXO that have been found.

JBLE Wildlife Violation Reporting
Click on the link above to report any incident or Wildlife Violation.